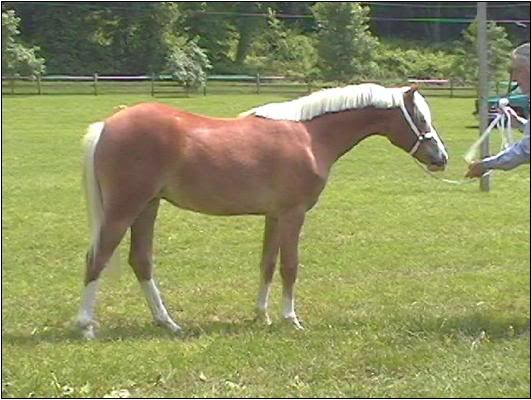 2003
Breed: Welsh Pony (Section B)
Color: Palomino
Gender: Filly
Height: 12.3hh.
Foals: N/A
Coyote's Silver Run

Liana's D M Silver

Twyford Dollar Money

Twyford Gurkha

Clan Da

Woodway Secret

Stoatley Jonathan

Tretire Martini

Moonrea of Kenview

Ettrick Peter Pan

Twyford Moonshine

Ettrick Pandora

Ettrick Henol

Twyford Moonshine

Ettrick Heather

Rosmel's Spun Gold

Sleight of Hand

Mylncraft Spun Gold

Solway Master Bronze

Yaverland Spun Silk

Coed Coch Olwen

Coed Coch Berwynfa

Coed Coch Pelydrog

Rosmels Mariah

Glannant Tango

Cusop Sheriff

Duntulums Two Step

Ardmore Spinnaker

Ardmore Nimrod

Ardmore Aloft
Commentary:
'Silver' is an excellent little pony. She is the first foal born at CA and has a certain zin to her personality. Just one look at her cute features and darling temperment will make you want to never leave her side. As a 3 year old she has begun to show progress in the hunter divisions and driving. Her daddy better watch out.
Points: 57
Earnings:
Record:
9th. All-Sim Pony Association-Halter Show #1-Filly Halter-Conformation Class
5th. All-Sim Pony Association-Halter Show #1-Filly Halter-Showmanship Class
6th. Cacola Acres Lookin 4 Love Pony Show-Filly Halter
3rd. Cacola Acres Lost Love Pony Halter Show-Ages 3/5
3rd. Cacola Acres Lost Love Pony Halter Show-Welsh Pony Section B
1st. Cacola Acres Lost Love Pony Halter Show-Palomino
4th. Cacola Acres Lost Love Pony Halter Show-Filly
10th. ASPSA Halter Show #2-Filly Conformation
7th. ASPSA Halter Show #2- Filly Showmanship
Brood Fee: $700