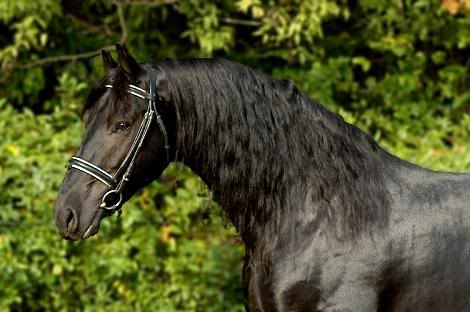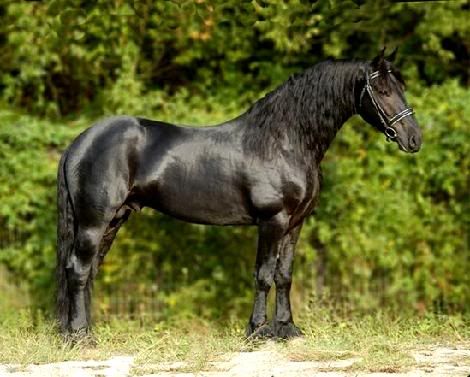 2003
Breed: Friesian
Color: Black
Gender: Colt
Height: 15.1hh
SFR Number: #
Laes X Liesel
Foals:
Laes
1976

Kasper

Durk
1959

Tina
1956

Vinola

Freark
1960

Makke
1952

Liesel

Frans 289
1983

Lammert
1975

Pauline
1977

Nieske fan de Maren S


Djurre


Ditske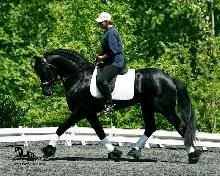 Commentary:
Keisel is one of the last colts by the deceased stallion Laes. His dam is by the deceased stallion Frans 289. He is a gorgeous deep black and already has nice feather and heavy mane. His conformation is suited for dressage. He is a quiet boy and easy to handel, and has extreme movement! Just looking at this guy gets me excited! He's got sooo much extention it makes your heart pound and takes your breath away just watching him.
~Zala (First Owner)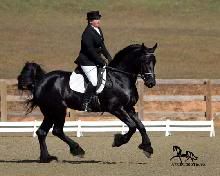 Kiesel is everything Zala has said and more. Besides his wonderful conformation and HUGE extention, he has a subtle sence of humor. Though he is generally quiet he does like to play in the pastures. He often times will just leap into the air and perform his own 'flying' routine. While learning his dressage he has already shown that he is quick witted, a hard worker, and overly honest. If he doesn't like what he has to do he will let you know, but not in a mean or vicous way like most would. He's just stare at you and the look in his eyes will tell you all you need to know. We at The Hills are proud to call Keisel one of our family.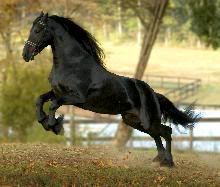 Standard Show Points: 37
SFR Points:
Earnings: $7,000
Show Record:
POSB Other Breed Colt/Stallion Spectacular
3rd. 3 Year Old Class
Equine Passion Rain Rain Rain Halter Show
1st. Friesian Class
7th. 2-4 Years Old Class
2nd. Colt Class
5th. Black Class
Banners:
Stud Fee: $500