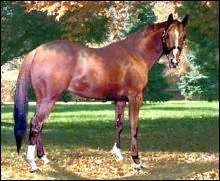 Age: 2yrs.
Breed: Tb.
Color: Chestnut
Gender: Colt
Foals:
Points: 2,8,7,2(5,100)
Earnings: $6,000
Record:
7th. RiverView Halter Show-Thoroughbred Class
2nd. Legacy Summer Race Series I-Maidens-1mile-Colts + Fillies(2-3y/o)
Info:
This colt is full of this! he is as twised and hot as his name stated. He goes and gets them and mostly prevailes.
You need to watch out for this one on the track and on the show grounds!
Stud Fee:$700
He May NOT Be Bred