2001
Breed: Tb.
Color: Red Roan
Gender: Mare
Height: 16.3hh.
At Full Feather X Born Perfect
Foals:

Record:
3rd. Knight's Choise Stakes-6.5f-2y/o Fillies
1st. Hoover Stakes-6f-2y/o
3rd. Evangeline Downs Sales Stakes-5f-2yo
1st. Princess Margaraet Stakes-6f-2yo Fillies
5th. Graduation Stakes-5.5f-2y/o
3rd. 7f-2yo Fillies
2nd. Sprinkles on the Lawn Handicap
1st. AC on High Stakes
4th. 3-Day Racing Trial .25 Mile Race #1
8th. 3-Day Racing Trial .25 Mile Race #2
2nd. 3-Day Racing Trial .25 Mile Race #3
1st. 3-Day Racing Trial .25 Mile Race #4
5th. Southern Pines 2yo Open
4th. Nadi Stakes-2yo Fillies-6f
1st. Sanford Stakes-2yo-6f
2nd. 3-Day Racing Trial .25 Mile Race #5
2nd. 3-Day Racing Trial .25 Mile Race #6
Reserve Champion 3-Day Racing Trial .25 Mile
10th. Mountain Jade Race #1-2yo Fillies
4th. Ocean Breeze Oaks-2yo Fillies-1 Mile
2nd.SRT Diamond Classic Turf-Tb. 2yo
4th. Pump it Up Stakes-2yo Fillies [G1]
3rd. Language Arts GIII-Stakes 2yo Fillies
1st. Allowence All Gender 2yrs.
1st. Magnolia Hill Race Meet-1 Mile Allowence
3rd. Bluegrass Stakes 2004 (SH)
6th. Kentucky Oaks 2004 (Royalty Stables)
5th. Black Eyed Susan 2004 (Royalty Stables)
1st. GII Legacy Bluegrass Stakes 11/16Mile
9th. SH Kentucky Derby
6th. Hawley's June 10th. AIM Show- 2-3yr Halter
3rd. Del Mar Cup Prep Race 1
4th. AIM Live Race-7f Fillies/Mares
9th. KillDeer Creek Doublemint Gum Racemeet-GI 9f 3y/o+ Fillies/Mares
1st. Acorn Stakes 2004 (Royalty Stables)
4th. Woodbine's Energizer Bunny Race Meet-Positively Pink Handicap
2nd. Chasing Liberty Race Meet-1 1/8 GI 3+Fillies
2nd. The Winds of Change Race Meet-Different by the Moment-GI Distaff-1mile
5th. Gothard Race Meet-Tsunami Stakes GI 5f on Dirt
2nd. Eaglehill Take the Lead Race Meet-10f G1 Mentor Stakes 2yo+ Open Gender, Dirt
4th. SAI's In the Gate Race-Grade I-8f-Dirt
Info:
TRS has had Utmost Perfection for all 5 years of her life. She was concived on the grounds of Sheika Inc. which is where both of her parents reside. Utmost has shown wonderful talent on the track. She has ran against triple crown contestants and has still placed farely well. In April 2008, Utmost will be retiring from the track, at seven years old it seems sill to have her chase after the young ones. So well will be entering her in prospect classes and introductory levels.
Awards:
Brood Fee: $600
She may NOT be Bred
Banners: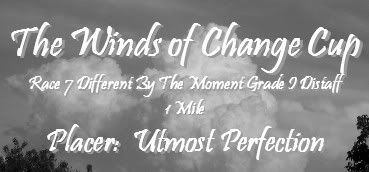 Special Notes:
Buy Backs to Tashya